UPPCL JE Electronics Question Paper 2021 With Answer Key PDF : All Shift
UPPCL JE Electronics Question Paper 2021 :- UPPCL Junior Engineer (Trainee) Electronics or Tele Communication के All Shift Question Paper With Answer Key की High Quality PDF को यहाँ से Download करें|
UPPCL JE Electronics Answer Key 2021 PDF :- 25 March 2021 को आयोजित हुए UPPCL JE Electronics or TeleCommunication (Trainee) के Online CBT Paper की Official Answer Key जारी|
UPPCL JE Electronics Domain Knowledge
UPPCL JE Electronics General Knowledge or Awareness Questions
UPPCL JE Electronics Reasoning Questions
UPPCL JE Electronics General Hindi Questions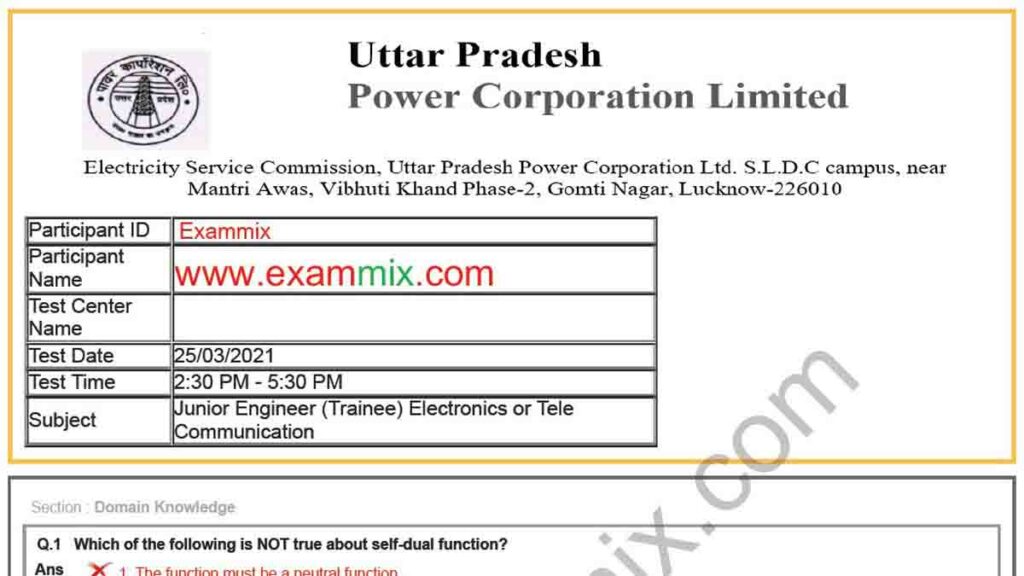 Best Electronics Questions
What would be the equivalent binary expression for 456?
(A) 456 (B)111001000 (C)111 (D)00111
DC potentiometer is a/an __ type instrument.
(A)deflection (B) 'null' (C) graduated (D) auxiliary
Thyristor is a _ layered device.
(A) 1 (B) 4 (C) 3 (D) 2
Which of the following is NOT an alternate name for a digital multimeter?
(A) SWR meter (B) Volt Ohm meter (C) Voltmeter (D) Ohmmeter
What is the typical range of the forward voltage of an LED?
UPPCL JE Electronics Question Paper 25 March 2021 1st Shift With Answer
UPPCL JE Electronics Question Paper 25 March 2021 2nd Shift With Answer
UPPCL JE Civil Question Paper 2020 :- Click Here
UPPCL JE Electrical Question Paper PDF 2019 :- Click Here
UPPCL TG2 Question Paper PDF 2019 :- Click Here
UPPCL JE Electrical Question Paper 2021 PDF :- Click Here