GATE 2020 Question Papers with Answer Keys PDF
GATE 2020 Question Papers :- Easily download the question papers with answer keys of GATE 2020 organized by IIT Delhi. Direct download link of all PDFs of these papers is given below.
GATE Question Paper 2020 :- Graduate Aptitude Test in Engineering 2020 के previous year question papers in PDF.
Latest Update :- 23-09-2020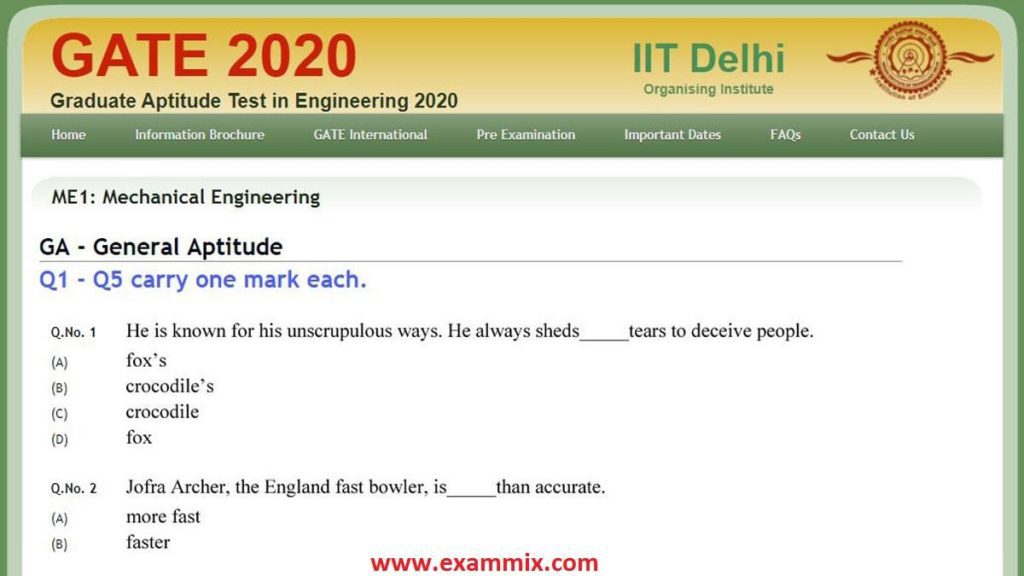 EY: Ecology and Evolution Question Paper with Answer Key
GG: Geology and Geophysics Question Paper with Answer Key
IN: Instrumentation Engineering Question Paper with Answer Key
MA: Mathematics Question Paper with Answer Key
MN: Mining Engineering Question Paper with Answer Key
MT: Metallurgical Engineering Question Paper with Answer Key
PE: Petroleum Engineering Question Paper with Answer Key
PH: Physics Question Paper with Answer Key
PI: Production and Industrial Engineering Question Paper with Answer Key
ST: Statistics Question Paper with Answer Key
TF: Textile Engineering and Fibre Science Question Paper with Answer Key
XE-A: Engineering Mathematics
XE-B: Fluid Mechanics
XE-C: Materials Science
XE-D: Solid Mechanics
XE-E: Thermodynamics
XE-F: Polymer Science and Engineering
XE-G: Food Technology
XE-H: Atmospheric and Oceanic Sciences
XL-P: Chemistry
XL-Q: Biochemistry
XL-R: Botany
XL-S: Microbiology
XL-T: Zoology
XL-U: Food Technology